Here's a fun little tutorial on decorating some simple patriotic stars.  Just in time for Independence Day coming up!  Enjoy…

Bake a batch of star cookies using one of our recipes or your own. For every 24 large star cookies, make a batch of frosting using one of our frosting recipes.
Divide frosting into thirds. Color one third white using white coloring. Color the second third red, and color the final third blue.
Prepare 3 disposable bags, inserting a coupler into one bag, and #2 tips into the others. Fill the coupler bag with half of the red frosting. Fill the #2 bags with about a third of the blue and white frostings. Place a #2 tip on the coupler and secure with ring. Close all bags with rubber bands.
Turn remaining frosting into glaze by adding water, a few drops at a time, until it is a thin consistency. A few drops of glaze should disappear into the mass by the count of 6 or 7. The amount of glaze you need will depend on how thin you make it. If you run out of glaze, you can squeeze some of the frosting from your bags to make more.
These instructions include steps for two styles of star cookies, each having 5 steps.
STYLE 1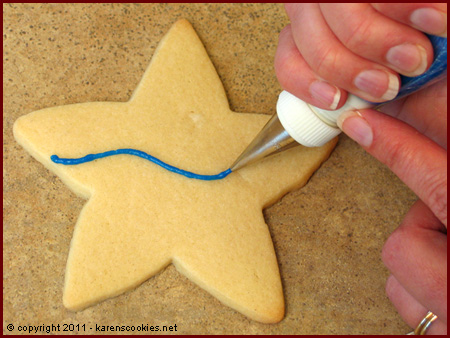 Pipe a wavy line across the middle of the star with blue frosting. This will make a dam for the glaze.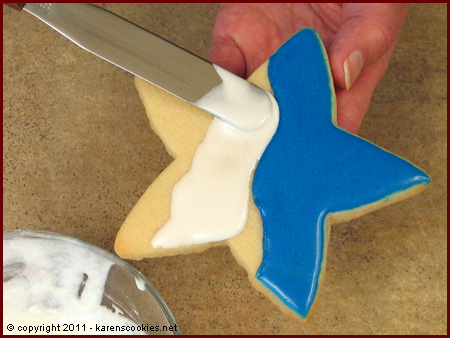 Glaze the cookie blue above the piped line. Allow to dry briefly, then glaze the remainder of cookie white.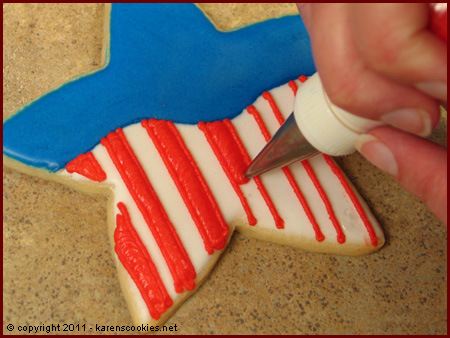 Using tip #2, pipe a series of evenly-spaced vertical red lines on the bottom of the cookie. Switch to a #4 tip and fill in between every other set of lines to create broad stripes.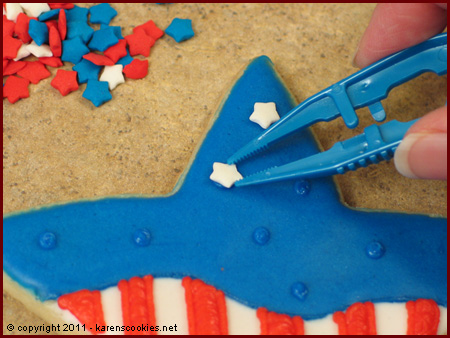 On the blue section of the cookie make several staggered blue dots. While the dots are still wet, use accent tweezers to place a white accent star on each dot.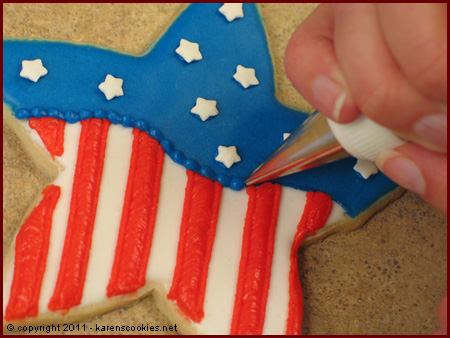 Finish the cookie by adding a small blue bead border along the line where the blue and striped areas meet.
STYLE 2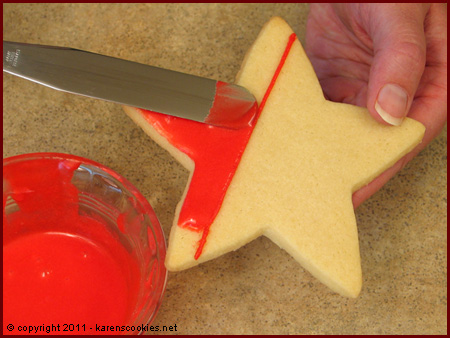 Use red frosting with #2 tip to pipe a straight horizontal line across top 3rd of the cookie. Glaze top portion red down to that line. Allow to dry for a few minutes.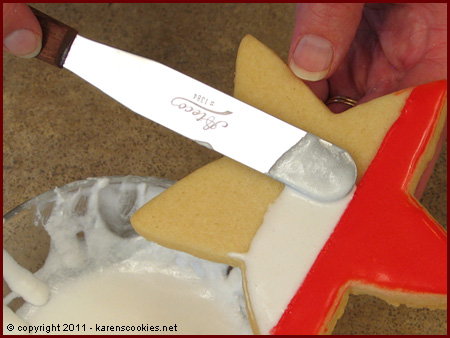 Glaze the next third of the cookie white. Push the glaze up neatly against the red line. Don't worry about your precision at the bottom, as it will be covered in the next step.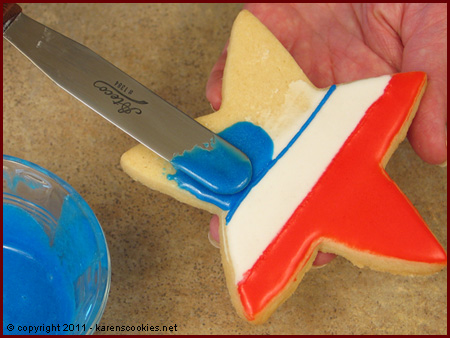 After white glaze has dried, pipe a blue line over the white glaze, approximately 3/4 of an inch below the red line. Glaze below this line blue.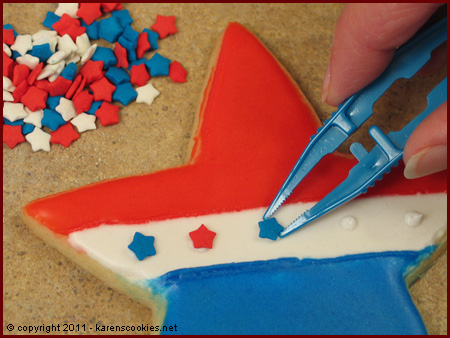 Pipe five evenly-spaced white dots across white section. Alternating colors, use accent tweezers to place red and blue accent stars on wet dots.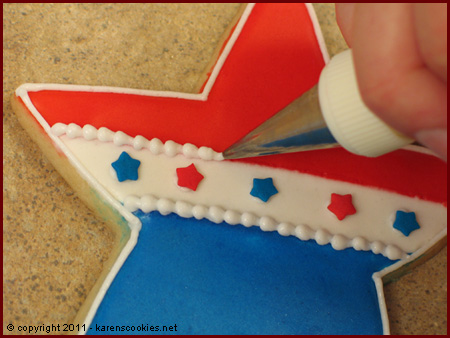 Outline star with white frosting. Finish by piping white bead borders on top and bottom of white section.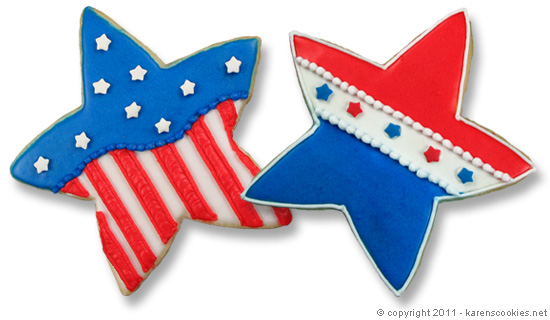 That's all there is to it! Try out other fun patterns and designs. These are perfect for the 4th of July, a soldier's care package or home coming, or any other patriotic occasion. Swap out colors to decorate for other countries. Have fun!